Blood soup
This is an easy recipe. You will need a can of tomato soup and a pack of musksticks. First, cook the soup in a pan over a stove. Then break up the musk sticks and put them into the soup to create...blood soup with delicious fingers!

Dead Fingers
This is a shortbread type cookie that look like fingers.The dough is piped (use a bag without any tip to get a finger sized cylinder) onto the cookie sheet. Then using the dull side of a butter knife make lines suggesting knuckle and wrinkles, and add an almond for the fingernail. I found the unblanched variety look particularly creepy. You can add a bit of red icing (ie.that translucent yuk that comes in a tube) if you want a bloody finger. I have experimented with this idea and found it better to make an impression with the almond rather then bake them and "glue" the almonds to the finger afterwards with the "blood". This gives a new twist to the term "finger foods".

Brain Cookies
You color a icebox type dough a sickening purplish/gray shade and then push the dough through a colander to make extruded spaghetti shapes.Then you loosely pat spoonfuls of the dough into brain shapes (well at least most kids' notions of how a brain is shaped). I think I experimented with different kitchen tools with this one and ended up using one of those collapsable steamer things to make the spaghetti.

French Fried Eye Balls
2 pototoes
relish
Mash potatoes and mold them into balls. Cook 160C in oven 20 min. Spread relish over and enjoy!

Bugs in dirt sandwiches
For this you will need white bread, a pack of mixed bug shaped lollies and milo. First, spread your slices of bread with margerine or butter. Then, sprinkle the buttered slices with milo until completely coated. Carefully stick the bugs firmly into the milo and place remaining slice of bread on top. Voila! you have bugs in dirt sandwhiches!

Tombstoned biscuites
This recipe is a nice treat. First, you will need icing sugar, rectangular biscuites and a toothpick. Take your icing sugar and mix it with hot water until fairly runny. Dip each of your biscuits into the mixture and place onto a foiled tray. Take your toothpick and carve "R.I.P" out of the icing on every biscuit. Place in fridge for a few hours and presto! Your very own mini tombstones!

Brain Cell Salad
1 (6-ounce) package blueberry gelatin dessert mix
1 (16-ounce) container small-curd cottage cheese
1 (16 1/2-ounce) can blueberries in syrup (or 3/4 cup frozen blueberries, thawed)
blue food coloring
Prepare gelatin according to the directions on the package. Chill for four to five hours, or until firm.
Scoop cottage cheese into bowl. Drain and set aside the syrup from the blueberries. Add the berries to
the cottage cheese and mix well. Add three drops food coloring to turn the cottage cheese a nice qrayish color when blended. To serve salad, place a few spoonfuls of firm gelatin (congealed brain fluids) onto individual plates. Top with a scoop of cottage cheese (brain tissue) mixture and serve.

Crusty Booger Balls
1 (14-ounce) can sweetened condensed milk
5 1/3 cups flaked coconut (about 14 ounces)
1 large 8-ounce package lime-flavored gelatin
1 cup ground, blanched almonds
1 teaspoon almond extract
In a large bowl, combine sweetened condensed milk, coconut, 1/3 cup of the unprepared gelatin, almonds, and almond extract. Mix well with a large mixing spoon or rubber spatula. Cover bowl with platic wrap and chill for about an hour or until mixture is firm enough to mold in your hands. Scoop by 1/2 teaspoonfuls and shape into various-sized booger balls. Place them on a baking sheet, lined with a sheet of waxed paper. Make sure they are all slightly different, just as each and every booger iwsunique and special. Place a second sheet of waxed paper on your work surface and pour remaining unprepared lime gelatin on the center of the waxed paper. Roll each ball in gelatin to coat well and create a thin outer layer. Then place back on the baking sheet. Return boogers to the refrigerator for and hour before seving, and store any extras in the refrigerator.

Pumpkin Cake
Bake 2 cakes in Bundt pans. Place the 2 cakes together bottom to bottom. Frost with orange frosting made from food colouring. The pumpkin face is pieces of a Hershey Chocolate Bar cut into triangles, etc for eyes, nose, etc. And finally set a chocolate frosted cupcake at the top as the stem.
Note: This ends up being a whole lot of cake.

Another Eyeball Dish!
Buy a can of lychee fruits and simply stuff the little devils with grapes (try mixing red and green grapes). Serve in a hollowed out gourd. Serve this down with Vampire blood. Any red-coloured drink will do. Simply serve it in small pumpkin-type gourds that have been cleaned out. Use black liquorice for straws, and start sucking.

Frog's Eye Salad
1 cup Acini De Pepe
2 cups mandarin oranges
1 cup pineapple tidbits
1 1/2 cups marshmallows
3 egg yolks
3 Tbsp. flour
1 cup sugar
1 reg. size Cool Whip
Boil Acini De Pepe in salted water til tender, but not soft (about 10 minutes) and drain. Drain fruit. Thicken fruit juice, egg yolks, flour and sugar. Add drained Acini De Pepe while dressing is still hot, then let the whole mixture cool. When cooled, fold in marshmallows, fruit, and Cool Whip. Chill.

Graveyard Treat
Crush a full bag of Oreo cookies and spread some in the bottom of the pan. Reserve the other half for the top. Next mix chocolate pudding and coolwhip, and spread over the crust. Spread the remaining crumbs over the pudding, covering completely. Use cookies to represent the tombstones, oval cookies are best, you can even pipe on saying with icing (R.I.P. etc) I have some bats on sticks that I stick down in the cookie tombstones (if they are sandwich cookies). Just use your imagination to decorate your
graveyard. Enjoy this ghoulish treat. Happy Haunting!

Kitty Litter Cake
1 pkg. spice cake mix
1 pkg. white cake mix
1 pkg. white sandwich cookies
green food coloring
12 small tootsie rolls
1 pkg. vanilla pudding mix
1 new kitty litter box
1 new pooper scooper
Prepare cake mixes and bake according to directions. Prepare pudding mix and chill until ready to assemble. Crumble white sandwich cookies in small batches in blender. They tend to stick, so scrape often. Set aside all but about 1/4 cup. To the 1/4 cup cookie crumbs, add a few drops green food
coloring and mix using a fork. When cakes are cooled to room temperature, crumble into a large bowl. Toss with half the remaining cookie crumbs and the chilled pudding. Gently combine. Line new, clean kitty litter box. Put mixture into litter box. Put three unwrapped Tootsie rolls in a microwave safe dish and heat until soft and pliable. Shape ends so they are no longer blunt, curving slightly. Repeat with 3 more Tootsie rolls and bury in mixture. Sprinkle the other half of cookie crumbs over top. Scatter the green cookie crumbs lightly over the top, this is supposed to look like the chlorophyll in kitty litter. Heat remaining Tootsie rolls, 3 at a time, in the microwave until almost melted. Scrape them on top of the cake and sprinkle with cookie crumbs. Serve with a new pooper scooper. This does take a bit of time. My friend made it for an adult's Halloween party, I swear you can't tell it from the real thing if you follow the directions carefully. Serves 24

Bone Sandwiches
Cut the crusts off of some slices of white bread. Spread peanut butter and jam on the bread. Roll the sandwiches up. Ta da! You have bones with blood and marrow for dinner!

Dinner in a Pumpkin
1 small to medium pumpkin
1 4-oz can sliced mushrooms, drained
1 onion, chopped
1 10-oz can cream of chicken soup
2 TBS vegetable oil
1 8-oz can sliced water chestnuts, drained
1 1/2 to 2 lbs ground beef
1 1/2 cups cooked rice
2 TBS soy sauce
2 TBS brown sugar
Cut off top of pumpkin; clean out seeds and pulp. Paint on appropriate face on front of pumpkin with pemanent marker or acrylic paint. In a large skillet, saute' onion in oil until tender; add meat and brown.
Drain drippings from skillet. Add soy sauce, brown sugar, mushrooms and soup; simmer 10 minutes, stirring occasionally. Add cooked rice and water chestnuts. Spoon mixture into pumpkin shell. Replace pumpkin top and place entire pumpkin, with filling, on a baking sheet. Bake for 1 hour in 350 degree oven or until inside meat of pumpkin is tender. Put pumpkin on a plate; remove top and serve. For your vegetable, scoop out cooked pumpkin and serve. Serves 6 people

Pumpkin Seeds
2 cups pumpkin seeds
2 tablespoons salt
2 tablespoons melted butter
vegetable oil
1.Separate pumpkin seeds from the pulp but don't wash the seeds.
2.Mix seeds, butter, salt, and stir.
3.Grease baking tray with oil and pour on buttered seeds. Gently shake the pan to even out the seeds.
4.Bake seeds at 200 degrees F. for 45 mins.
The Classic Apple Dunking
Apples
Water
A deep pan or a half barrel
Lots of people
You can blindfold the players or not. Put the water and apples in the barrel. Without using hands the players must pick up an apple with their teeth! (If you wear glasses then don't forget to take them off.)

Pumpkin Cake This tastes like pumpkin!
1/2 c. sugar
1/2 c. butter
1/2 tsp. ginger
1 tsp. cinnamon
1/2 tsp. salt
1 egg
3/4 c. dark molassses
3/4 c. milk
2 c. flour
1 tsp. baking soda
Mix together sugar, butter, ginger, cinnamon, and salt. Add one egg and beat until fluffy. Add molasses and milk. Combine flour and basking soda and add to wet mixture. Bake in a round pan at 325 degrees F. for 35 minutes. When cooled frost with orange icing.
Green Eye Pie
In a bowl combine 2 cups of washed and dried green grapes and 1/2 cup of sour cream. Pour into 1 prepared graham cracker pie crust. Right before serving sprinkle with 2 tablespoons of brown sugar.

Gory Hand - Presentation is everything.
This is both a yummy treat and a great decoration to scare your friends. Use a clean rubber glove. Make a strong cherry or other red jello by using 3/4 of the recommended amount of water. Hang the glove over the sink by using clothes pins attached to thin strips of wood. When the jello has cooled pour into glove and place in the deep freeze. Be careful not to have the hand pressing against anything or it will ruin the shape. When the jello is frozen cut the glove off using small scissors. Keep your masterpiece in the fridge until ready to display.

alternate Gory Hand tip:
Take a clean rubber glove and fill it with water, tie it and put it in the deep freeze. Keep it in there until your party. When you're ready take it out of the glove and put it in the punchbowl instead of ice!

Eyeball Snacks
1 lb. icing sugar
1 egg white
peppermint essence
black liquorice
blue or green colouring
Beat the egg white lightly and blend with a small amout of icing sugar and a few drops of peppermint essence. Mix until you get a fine dry paste. Using your hands knead the paste adding small amounts of icing sugar until the paste will absorb it. Separate a small quatitiy to make the irises, adding a few drops of blue or green coloring and mix. Roll the white mixture into small round balls. Press a hole in the top of the ball with your finger and add some of the colored mixture. Cut a small piece off of the
liquorice and place in the middle of the colored mixture for the pupil. Voila!

Spider Salad
1.Place one half of a canned peach on a plate, flat side down.
2.Cut eight curls off of a carrot with a vegetable peeler.
3.Tuck the curls under the peach to make spider legs.
4.Put raisins on top of peach for eyes.
5.Put a small piece of marachino cherry under the raisins for the mouth.

Easy Insects
1.Melt a 6oz. package of butterscotch chips over low heat, stirring constantly.
2.Remove chips from heat and stir in 1 cup peanuts and 3 cups chow mein noodles.
3.Drop by teaspoon onto waxed paper and cool.
Vampire's Blood Shake
2 cups plain yogurt
1/2 tsp. vanilla extract
1 package frozen starwberries or raspberries, thawed
ice cubes
1 pint strawberry ice cream
1.Mix yogurt, vanilla, and berries in the blender.
2.Pour into tall glasses over ice cubes, or chill.
3.Top with a big spoonful of strawberry ice cream.
BLOOD RED ICE
For deep red ice, try cherry Kool-Aid®. It Can even be frozen inside a plastic glove, now this really adds some snap to a punchbowl! MYSTERY PUNCH 1/4 cup lemon juice 1 teaspoon ground ginger 2 quarts apple cider 3 cups water 12 ounce can of frozen orange juice concentrate Stir all ingredients together until well blended. Chill 1 hour. Serve cold with blood red ice mold (above) To serve warm, after chilling, bring mixture to a boil, then simmer for 5 to 10 minutes.
BOILING WITCH'S CAULDRON OF WHAAP
Get one of those plastic witch's cauldrons from your nearest Halloween supply store usually available at large retail outlets around Halloween. Wash it out real good. Purchase some frozen lemonade, lime-lemonade, and whatever other flavor you want to use as your base taste. Then proceed to add a couple liters of lemon-lime tasting soda such as 7-UP, Sprite, Squirt or even Ginger Ale. Add a whole bunch of cut-up fruit: watermelon, strawberries, musk melon, cantaloupe, oranges, and of course your favorite style of grapes (they make good eyeballs). To darken the mixture you may want to add a couple of packages of grape or blackberry Kool-Aid®. For added effect you can purchase some plastic bones, eyeballs, bats, spiders or whatever else you can find. Lastly you will want to add dry ice for the boiling effect and to have "steam" rolling over the edges.
A WARNING ABOUT DRY ICE!!!! IT CAN BURN SKIN BY HANDLING IT OR SOMEONE'S THROAT IF THEY SWALLOW IT! BE SURE TO WARN YOUR GUESTS OF THE DANGERS BEFORE THEY GET AT IT OR MAKE SURE YOU HAVE SOME KIND OF SIGN TO WARN THEM. WE CANNOT TAKE RESPONSIBILITY FOR SUGGESTING IT'S USE.

There's Bugs in my Drink!
Put raisins in your punch for bugs!

A Gruesome Brew
1/2 c. lemon juice
1 quart apple cider
5 cloves
1 tsp. nutmeg
2 cinnamon sticks
toads and salamanders
1.Mix lemon juice and cider in a saucepan.
2.Put spices in a tea ball and add to cider.
3.Bring mixture to a boil over low heat and simmer for 5 - 10 minutes.
4.Cool slightly, remove tea ball, and serve. Also good cold.

[top]
MAKE MONEY FOR THE HOLIDAYS
WITH CRAFTS

Maximizing Your Profits From Your Craft Sales

Consignment Sales And Getting Your Projects Published

Designing Your Own Projects Could Never Be Easier

Catalog Sales And Recruiting Others To Sell For You

Special Craft Series


Christmas Time


Holiday Stress




Holiday Shopping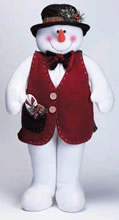 #33924 Plush Snowman