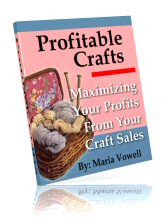 Proven techniques
to help your
craft sales soar!
Provided by a published designer
with over 15 years experience!
Now you too can rest assured knowing that your craft sales will never slump again!
Gain confidence in yourself, and your products as each day passes once you see your profits explode like you've never seen them explode before. Learn wonderful techniques to increase your overall profits and receive top selling project patterns for some of today's best selling items.
Profitable Crafts provides so much information related to maximizing your arts & crafts profits that you'll never have to worry about if your products will sell or not.
You'll create your crafts with confidence knowing before hand that you're providing items that people will buy, and pricing them perfectly for maximum profits without ever having to lower your prices just because you think lowering your prices will help your products sell better.
WHOA GO MARIA!!! I love the information, so full of wisdom and encouragement! YES, all that you say is so true, and I love the WalMart story, I will have to remember that one! AND the "if you bring me a piece of that $20 a square fabric I will knock off $20".. WONDERFUL advice!! These are the kinds of things that we all need to learn about!! Deb H.
A Bit About The Author
Maria has been crocheting since she was 11 years old, and has over 15 years experience at selling at arts and crafts shows. When she attends shows, she always receives visits from other crafters that have booths at the same shows, asking her for advice when they see her booth full 95% of the time with paying customers.
She has mentored literally hundreds of crafters, both online and off, and helped them turn their part time hobby into a profitable full time business. She has not had a single person complain about her techniques not working, even though she has over 10 years experience of providing her mentoring services for craft related topics.
She has over 13 years experience at designing her own crochet patterns and other craft projects, and has had a number of her patterns and projects published in nation wide magazines. She has had one article published in a national magazine, and has also won numerous awards for some of her best designs.
You Will Quickly Learn How To
Create products that sell so fast that you can barely keep up with your orders
Price your products for maximum profits without confusion
Cut costs on your materials without killing the quality of your products
Ensure that your booth stays packed with paying customers
Stock your booth effectively to increase sales
Cater to the needs of two types of shoppers that are sorely neglected by most crafters, and why you should cater to their needs for increased sales
Provide super fast items, and exactly what they are
Prevent your shoppers from seeing your products as low quality and inferior, and why lowering your prices could make them think just that
Barter and provide layaway, and why you should never overlook these two methods to increase sales and save money
How to convert the 2 main types of shoppers into customers for life, and why you shouldn't waste much time on the third type of shopper
Create small gifts that's inexpensive to make, and how they could increase your sales 100%
Never become a "Fake" crafter
How to make personalized cloth labels that will not be torn off your items
Increase your profits by as much as 300% by implementing just this one tactic before every show
You will also find included in the manual, 11 crochet patterns that you are free to use for making hot crocheted items that sell like hotcakes!
One of these patterns is a wonderful thread bear pattern. Thread Bears have proven to be hot sellers and wonderful products for people of all ages. These miniature creations have sold for as much $300 each on a particular well-known auction site!
Everything you need to know about maximizing your profits, increasing sales of your products and gaining new customers is included in this manual!
My first craft fair turned out to be a BAD weather day, so not many people showed up - probably less than 20 customers all day. Many vendors didn't even make a sale. I was blessed enough to make about $150. I was SO proud! Thank you for your advice. Jeannie C.
After reading all of your information, whole new worlds are opening up for me!! You are simply incredible! Now I want to learn to make soaps!! My husband is going to throw my computer away if I don't settle down!! lol Thanks for showing me the new things and helping me to tap into my own creativity!! Sheila S.
You come up with the most creative advertising! That's where its toughest for me I think, so greatly appreciate your sharing!!!!! Randi M.
You get at least 10 times your money's worth and will prevent a lot of headaches in the future once you've devoured what's in this manual!
Maria Vowell usually charges a high-class fee to teach others just a few of the methods covered in this manual, but you can get these methods today at a very affordable price!
Remember, you get the manual full of pricing strategies, tips, tactics, techniques and methods to increase your sales and profits of your craft related products. 10 wonderful crochet patterns so you can create hot items that sell, and a wonderful thread bear pattern so you can start making these wonderful super selling miniature creations!
Act immediately and receive the following bonuses
Since I know it's 100% to your benefit to act right away, I want to sweeten the pot and give you every possible reason to say YES today! If you respond immediately, you'll also receive the following:
Free bonus one:
Details on where you can receive an additional 20 crochet patterns completely free! From dainty purses to elegant sachets, you'll find these 20 free patterns make wonderful selling crocheted items for your shows, business and/or online sales!
Free bonus two:
Maria Vowell also provides a free scents and beauty business course. The scents and beauty business course is written to help people start an affordable home based business, selling homemade bath and aromatherapy related products. You'll find out how to obtain this course completely FREE as a special thank you from Maria Vowell.
You can't lose with our 100%,
ironclad, moneyback guarantee
By the way, these bonuses are yours to keep even in the unlikely event you decide to take advantage of our ironclad moneyback guarantee:
If you are not 100% satisfied with your purchase, then I will issue you a 100% no questions asked refund! Just try these methods for 6 months, and if you do not see an increase in your sales and profits, then contact me for a full refund!


Use the order link below to order Profitable Crafts today for only $15.97!
To your success,
P.S. Order today to ensure that you gain access to the free scents and beauty business course! This course could be canceled at any time, and you most certainly want to participate in this course while you still have the chance!