USING AND HANDLING TOOTHBRUSHES
Toothbrushing is a lifelong preventive habit important to maintain oral health and prevent tooth decay. Toothbrushing in the child care setting helps children to develop this habit. To brush teeth properly and to prevent infections from spreading from germs found in saliva and blood on toothbrushes: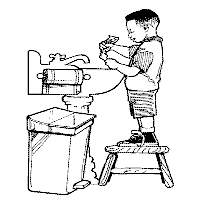 Always supervise children when they are brushing their teeth.
Make sure that each child has his/her own toothbrush clearly labeled with his/her name. Do not allow children to share or borrow toothbrushes.
Apply (or have child apply) a pea-sized amount of fluoride toothpaste to a dry toothbrush.
Instruct each child to brush his/her teeth and then spit out the toothpaste.
Using a paper cup, each child should rinse his/her mouth out with water. Dispose of the cup.
Store each toothbrush so it cannot touch any other toothbrush and allow it to air dry.
Never "disinfect" toothbrushes. If a child uses another child's toothbrush or if two toothbrushes come in contact, throw them away and give the children new toothbrushes.
If a child uses the toothbrush of another child that is known to be ill or have a chronic bloodborne infection (such as Hepatitis B or HIV), parents of the child who used the ill child's brush should be notified.
Replace toothbrushes every 3 to 4 months or sooner if bristles have lost their tone.