HANDWASHING
Most experts agree that the single most effective practice that prevents the spread of germs in the child care setting is good handwashing by child care providers, children, and others. Some activities in particular expose children and providers to germs or the opportunity to spread them. You can stop the spread of germs by washing your hands and teaching the children in your care good handwashing practices.
When Hands Should Be Washed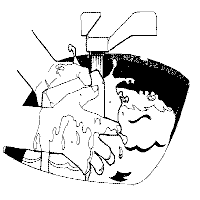 Children:
Upon arrival at the child care setting.
Immediately before and after eating.
After using the toilet or having their diapers changed.
Before using water tables.
After playing on the playground.
After handling pets, pet cages, or other pet objects.
Whenever hands are visibly dirty.
Before going home.
Providers:
Upon arrival at work.
Immediately before handling food, preparing bottles, or feeding children.
After using the toilet, assisting a child in using the toilet, or changing diapers.
After contacting a child's body fluids, including wet or soiled diapers, runny noses, spit, vomit, etc.
After handling pets, pet cages, or other pet objects.
Whenever hands are visibly dirty or after cleaning up a child, the room, bathroom items, or toys.
After removing gloves used for any purpose.*
Before giving or applying medication or ointment to a child or self.
Before going home.
*If gloves are being used, hands should be washed immediately after gloves are removed even if hands are not visibly contaminated. Use of gloves alone will not prevent contamination of hands or spread of germs and should not be considered a substitute for handwashing.
Rubbing hands together under running water is the most important part of washing away infectious germs.
Premoistened towelettes or wipes and waterless hand cleaners should not be used as a substitute for washing hands with soap and running water. Towelettes should only be used to remove residue, such as food off a baby's face or feces from a baby's bottom during diaper changing.
When running water is unavailable, such as during an outing, towelettes may be used as a temporary measure until hands can be washed under running water.
A child care provider may use a towelette to clean hands while diapering a child who cannot be left alone on a changing table that is not within reach of running water. However, hands should be washed as soon as diapering is completed and child is removed from the changing table.
Water basins should not be used as an alternative to running water. If forced to use a water basin as a temporary measure, clean and disinfect the basin between each use. Outbreaks have been linked with sharing wash water and washbasins.
How to Wash Hands
Always use warm, running water and a mild, preferably liquid, soap. Antibacterial soaps may be used, but are not required. Premoistened cleansing towelettes do not effectively clean hands and do not take the place of handwashing.
Wet the hands and apply a small amount (dime to quarter size) of liquid soap to hands.
Rub hands together vigorously until a soapy lather appears and continue for at least 15 seconds. Be sure to scrub between fingers, under fingernails, and around the tops and palms of the hands.
Rinse hands under warm running water. Leave the water running while drying hands.
Dry hands with a clean, disposable (or single use) towel, being careful to avoid touching the faucet handles or towel holder with clean hands.
Turn the faucet off using the towel as a barrier between your hands and the faucet handle.
Discard the used towel in a trash can lined with a fluid-resistant (plastic) bag. Trash cans with foot-pedal operated lids are preferable.
Consider using hand lotion to prevent chapping of hands. If using lotions, use liquids or tubes that can be squirted so that the hands do not have direct contact with container spout. Direct contact with the spout could contaminate the lotion inside the container.
When assisting a child in handwashing, either hold the child (if an infant) or have the child stand on a safety step at a height at which the child's hands can hang freely under the running water. Assist the child in performing all of the above steps and then wash your own hands.