Cleaning Up Body Fluid Spills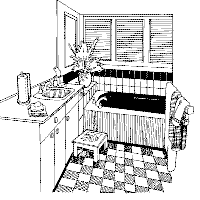 Spills of body fluids, including blood, feces, nasal and eye discharges, saliva, urine, and vomit should be cleaned up immediately.
Wear gloves unless the fluid can be easily contained by the material (e.g., paper tissue or cloth) being used to clean it up. Be careful not to get any of the fluid you are cleaning in your eyes, nose, mouth or any open sores you may have.
Clean and disinfect any surfaces, such as countertops and floors, on which body fluids have been spilled.
Discard fluid-contaminated material in a plastic bag that has been securely sealed. Mops used to clean up body fluids should be (1) cleaned, (2) rinsed with a disinfecting solution, (3) wrung as dry as possible, and (4) hung to dry completely. Be sure to wash your hands after cleaning up any spill.