EXPOSURE TO ELECTRIC AND MAGNETIC FIELDS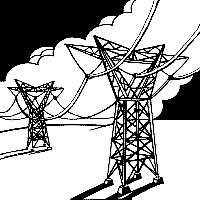 Electric and magnetic fields (EMFs) are produced by voltage or electric pressure in power lines, electrical wiring, and electric devices. Both electric and magnetic fields exist near electric devices that are turned on. Objects that conduct electricity (e.g., trees, buildings, metal screen, and human skin) can reduce electric fields and thereby shield people under them. Shielding people from magnetic fields, however, is very difficult. Both magnetic and electric fields diminish with increasing distance from the source.
Studies to find out what effect exposure to electric and magnetic fields have on people's health have been inconclusive. Some study results have suggested that EMFs may have a bad effect on health (such as causing leukemia or other cancers) and some studies show no effect from exposure to EMFs. Most scientists do not believe that research results are convincing enough to warrant drastic action by homeowners, schools, or businesses.
If you are concerned about electric and magnetic fields in your child care facility (both indoors and outdoors), most power companies will measure the level of the fields free of charge and compare them to averages in other homes, schools, or businesses. You can reduce exposure to electric or magnetic fields generated by electric devices by keeping a distance from the devices when they are operating and by unplugging them when they are not in use. You canalso reduce exposure by avoiding close proximity to sources of electric and magnetic fields that might be discovered by the power company when they make their measurements.